Chris Brown's Taliban Costume Defended in Good Fun
By Lora Neng
WWW.STREETGANGS.COM STAFF WRITER
November 2, 2012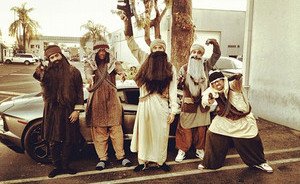 Chris Brown can't seem to stay away from an association with violence. On Wednesday, he was seen dressing up as a member of the Taliban for Rihanna's Halloween Ball.
According to HollywoodLife.com, a friend of the music artist said,
"It's Halloween and people can be whoever the f**k they want to be. That's the whole point. It's a costume. We all didn't mean no disrespect by dressing up as Arabs. Nobody ain't mention s**t about no Taliban or nothing like that. We just went out, put on a costume and had some fun. […] It's f**king Halloween and all that really matters is that he had a good time and came out and supported Rihanna and made a big a** donation to her charity. Talk about that instead of a stupid costume."
Brown's mother also played down the incident in the name of fun, tweeting as @mombreezy, "So does this mean when we dress our kids as Satan we glorifying him or (is) it just out of fun?… Keep smiling angel."
Chris Brown posted a photo of him and his posse with fake beards, holding various weapons, and in Middle Eastern garments online with the caption, "Ain't nobody Fucking wit my clique!!!!"
An Irish band recently declined to support Brown's upcoming show in Dublin so as not to condone his violent behavior against on-and-off-now-on-again girlfriend Rihanna, for which the singer is still required to attend mandatory progress hearings in court.
Posted by
Lora
on Nov 2 2012. Filed under
Entertainment
. You can follow any responses to this entry through the
RSS 2.0
. You can skip to the end and leave a response. Pinging is currently not allowed.