An Insider's Look Before They Were Hip-Hop Stars
By Carolina Gonzalez / The New York Times
November. 18, 2014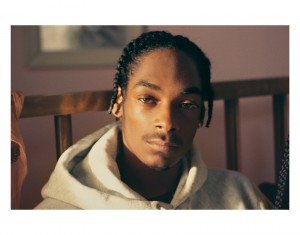 The sharp features and bedroom eyes are eminently familiar. But the sun-dappled portrait of Snoop Dogg Lisa Leone took in 1993 surprises. The rapper appears not just young — this was just before the release of his first solo album — but soft.
"What you see in those photos is time," said Ms. Leone, speaking from Miami. "His eye contact is so beautiful and vulnerable."
Against the hard image that many in hip-hop have cultivated over the last two decades, the portraits of musicians, b-boys, graffiti writers and round-the-way scenesters that Ms. Leone photographed in the 1980s and 1990s shows an unguarded, proud, sometimes goofy side more easily revealed to a fellow traveler. Even when her subjects look into the camera, there is an informal feel to her photos, revealing process over pose, different from the glossy posturing we've become accustomed to in the camera-phone era.
The images in Ms. Leone's book "Here I Am," and the selection on exhibit at the Bronx Museum of the Arts through January document music video and magazine shoots, recording sessions and the downtime in between. Many of her subjects are caught on the upswing to fame, like in one batch of photos documenting the recording sessions for Nas's debut album "Illmatic," which has since become a clblankic. Or in moments when artistic expression is divorced from career concerns, like a profile of Carlos "Mare139" Rodriguez in some unknown lot, spray can in hand, showing the serious fun of graffiti writing.
Read more here: http://lens.blogs.nytimes.com/2014/11/18/an-insiders-look-before-they-were-hip-hop-stars/?_r=0#
Posted by
stef
on Nov 18 2014. Filed under
Entertainment
. You can follow any responses to this entry through the
RSS 2.0
. You can skip to the end and leave a response. Pinging is currently not allowed.