Gucci Mane Named in Mentee's Wrongful Death Suit
By Lora Neng
WWW.STREETGANGS.COM STAFF WRITER
December 13, 2013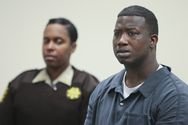 Gucci Mane's entanglement in the case of Mario "Slim Dunkin" Hamilton's murder escalated Wednesday, when the father of the slain rapper named the celebrity in a wrongful death lawsuit. In December 2011, Hamilton was shot as he prepared to film a music video with Gucci Mane, killed by a gunshot from another man in the studio.
Hamilton allegedly messed with Vinson "Young Vito" Hardimon's candy and lost his life to the ensuing outburst. Young Vito was acquitted of a murder charge, but the conviction of aggravated assault and possession landed him 25 years in prison. His lawyer is now negotiating for a reduced sentence down to ten years, according to AllHipHop, but why Gucci Mane was named in the lawsuit is unclear.
The Atlanta Journal-Constitution writes that Gucci Mane, born Radric Davis, was a mentor to the deceased "Slim Dunkin," who died at only 24-years-old. Davis is currently jailed in DeKalb County on federal gun charges and aggravated assault in Fulton County.
Photo credit: JOHN SPINK/AJC
Posted by
Lora
on Dec 13 2013. Filed under
Entertainment
. You can follow any responses to this entry through the
RSS 2.0
. You can skip to the end and leave a response. Pinging is currently not allowed.