Mach Five Explains the New Genre They Call Trap/Art Rap
By Lora Neng
WWW.STREETGANGS.COM STAFF WRITER
December 28, 2012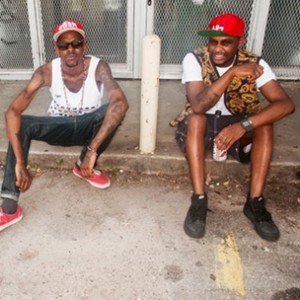 Inspired by the anime "Speed Racer," Mach Five made their rapid foray into the rap scene determined not to be limited by any one art form. The duo that make up the Atlanta group told HipHopDX, "[We're] in a turnt-up era, everybody wants to party now," a reality that gave them license to stretch the conventions of Hip Hop music to incorporate other genres, "so if it's not the Electronic Dance Music, it's Trap Rap."
The idea to call their multigenre project Art Rap came when someone mentioned the conceptual nature of their work, which enlists the collaboration of musicians in and outside of rap, painters, and videographers. "And then we looking at what everyone around us is doing too with this whole New Atlanta Movement, that's like this whole renaissance of artists."
Electronic Dance Music, in particular, gave a unique energy to their live sets. "A few years ago at a Hip Hop show, people [would be] just standing around and looking at the stage. We don't want our shows to be nothing like that, we like our shows to be epic (…) Bitches [hopping] on the stage, stage dive (…) [EDM] brings that energy."
A.ware and Corey Davis, who make up Mach Five, came up with their group name to signal to listeners that their music "breaks the sound barrier." They also extend their creative energy to running Greedmont Park, a blog whose strong following launched it into a magazine and then TV, promoting other artist of the New Atlanta Movement.
Posted by
Lora
on Dec 28 2012. Filed under
Entertainment
. You can follow any responses to this entry through the
RSS 2.0
. You can skip to the end and leave a response. Pinging is currently not allowed.