Skillz's '2016 Rap Up' Is Here To Remind You How Awful This Year Was
By Delenda Joseph | UPROXX.com
12.30.16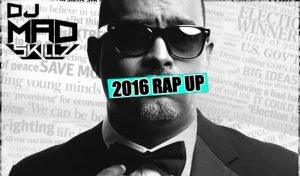 Thank the rap gods for Skillz's annual "Rap Up" because I can never remember the year's notable events come December 31. This year, I've only managed to retain information about more dead black bodies at the hands of police, celebrity deaths, all things presidential election and Beyonce getting everyone in "Formation" with Lemonade. I completely forgot about Zika, the great killer clown panic of 2016 and "Damn Daniel" being a thing this year.
Skillz uses Young M.A.'s "Summer Story" to recap Kevin Durant taking his future Hall of Fame talents to Golden State Warriors, Kanye losing his goddamn mind, Mumble Rap thriving, and Joanne The Scammer teaching everyone how to live an i-co-nic Caucasian life. Honestly, truly. Meek Mill and The Game's beef seemed so long ago, so does Gucci Mane finally coming home only to battle clone rumors, and Teyana Taylor giving women a new set of #bodygoals.
Read more here: http://uproxx.com/realtalk/skillz-rap-up-2016/
Posted by
stef
on Dec 30 2016. Filed under
Entertainment
. You can follow any responses to this entry through the
RSS 2.0
. You can skip to the end and leave a response. Pinging is currently not allowed.