Rob McKenna and State Lawmakers Take Shotgun Approach to Controversial Gang Laws
Keegan Hamilton (Seattle Weekly) | December 27, 2011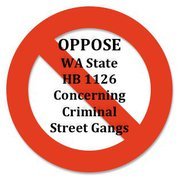 Last year attorney general Rob McKenna proposed sprawling anti-gang legislation that would have made it illegal to wear certain types of clothing in public, among other severe crackdowns. The proposal failed, but the Republican gubernatorial candidate and his political allies are trying it again in 2012, this time with a divide and conquer approach.
McKenna's 2011 legislation was HB 1126, sponsored by Rep. Charles Ross, a Republican from Naches. The bill would have done a variety of things if it had been enacted, some arguably quite good and others obviously troubling.
The highlights and lowlights included:
-A clause that would have allowed prosecutors to use an "abatement order" to close a so-called "nuisance property" for one year. Houses that harbor gang members (a tricky thing to define) would be taken into the custody of the state.
-A grant program that would have funded "a gang blankessment using evidence-based practices" or a program that uses "evidence-based or innovative and culturally relevant practices."
-Sentence enhancements of up to 125 percent of the existing standard for adults convicted of "a criminal street gang related-felony."
– The ability for prosecutors to file protection orders against individuals, barring them from doing things like "wearing gang clothing in public," or entering certain neighborhoods.
Read more at: http://blogs.seattleweekly.com/dailyweekly/2011/12/rob_mckenna_and_state_lawmaker.php