3 criminal defense attorneys indicted for allegedly bribing court staff to give them clients
BY Shayna Jacobs , Ginger Adams Otis
NEW YORK DAILY NEWS
Published: Monday, September 29, 2014, 1:41 PM
Updated: Monday, September 29, 2014, 8:36 PM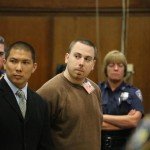 Three criminal defense attorneys and a paralegal were arraigned Monday for allegedly conspiring to pay off Manhattan Criminal Court staff to get cases steered their way, the district attorney said.
Lawyers Dwane Smith, 56, Benjamin Yu, 36, and Jae Lee, 41, were charged in two indictments for crimes related to the alleged year-long conspiracy.
Paralegal Jose Nunez, 47, was similarly charged.
According to the first of two indictments, Yu, Lee and Nunez had a Criminal Justice Agency staffer, who has not been identified, use "his position within the court system to persuade" wealthy defendants to hire Yu and Lee.
The CJA worker, who authorities said is now a cooperating witness, interviewed defendants before they were arraigned and assessed whether they could afford private lawyers. The lawyers had him use his position to scout clients — and got him a second cell phone to use for the scheme, prosecutors said.
The worker would then recommend defendants hire the lawyers, telling them they'd get before a judge faster if they did, said Manhattan District Attorney Cyrus Vance.
Sometimes the CJA court worker texted Nunez, and sometimes he'd text Yu and Lee directly, the indictment says.
The employee steered as many as 100 clients to Yu, who charged the defendants $1500 per arraignment, authorities said.
Read more here: http://www.nydailynews.com/new-york/nyc-crime/3-criminal-defense-attorneys-indicted-paying-court-staff-article-1.1956867