Online commentator gets Aubrey Berry acquittal all wrong
By Alex A. Alonso
STREETGANGS.COM STAFF WRITER
June 6, 2010 | 3:10 p.m.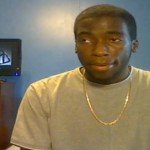 LOS ANGELES – With the explosion of the internet and rapid growth of the blogospere, everyone who already had something to say, can have their message heard instantly no matter how ignorant or inaccurate they are. Youtube is a great method to present a commentary on a particular issue, but unfortunately, trying to get accurate and credible information can still make it a challenge.
I recently found a video commentary about the recent acquittal of Aubrey Berry, the Atlanta man arrested for the shooting death of Konvict artist, Roderick "Dolla" Burton. Apparently this particular person was disappointed that Berry was acquitted, but his commentary did not make any accurate representation of the evidence, which clearly represents a bias, which is acceptable for a person doing commentary, but more disturbing is that there are several misstatements in his short three minute video which does his watchers a disservice.
Let's review.
1. At the intro of the video, he states that Aubrey Berry is being "slapped on the wrist for a first degree murder." First degree murder was among three charges Berry was facing in the shooting death of Dolla. He was also facing a 2nd degree and a voluntary manslaughter charge. What's misleading about this statement, is that it suggests that Berry was guilty of 1st degree murder in the first place. During the trial, there was no conclusive evidence that Berry killed Dolla with malice aforethought or that the killing was premeditated. Evidence at the trial revealed that, Dolla and Berry coincidentally where at the same restaurant and that Berry was actually leaving the restaurant when he realized Dolla was there, so to characterize this shooting as 1st degree or planned in any way is wholly inaccurate.
2. Berry did not represent himself in court. He was represented by criminal defense attorney Howard R. Price. This was not reported anywhere so we can assume that he just made this up.
3. Berry never said that Dolla said "I will kill you" in that Atlanta night club. Berry testified that Dolla threatened him at the valet area at the Beverly Center in Los Angeles, so again the commentator just made up some more inaccurate information.
4. At 1:12 of the video he states that Berry shot Dolla 3 times in the back, while conveniently avoiding the first shot that Dolla suffered to his front left bicep. He was actually shot twice in his back and once in his buttocks after the first shot for a total of 4 shots. During the trial the Los Angeles County Coroner and a pathologist testified about these four gun shot wounds.
5. At 1:17 of the video clip he states that Dolla was running away when he was getting shot. This is most likely untrue, because there was a wall or partition behind Dolla, so when he did run, he ran to his right across the garage. At that point he was already shot four times. He could not get shot three times in the back when he was running with his side exposed.
6. At 1:20 he says that Berry shot at Dolla four times, hitting him three times. Berry shot a total of eight rounds, four of which hit Dolla. Since this was not reported anywhere in the article he cites, it is fair to assume he just made this up.
7. At 1:28 he states that because Dolla was shot in the back, that it could not be self defense. He correctly states that he is not an attorney and that's where he should have ended it, but he revealed his ignorance by making judgments about the shooting based on where Dolla was shot. What this guy fails to mention is the first shot that Dolla received was in the front. Naturally when someone is getting shot, they are going to turn around and if the shooter is shooting their weapon multiple times we would expect for some shots to land in the back. Back in 1993, rapper Snoop Dogg was charged with the first degree shooting of a Crip named Philip Woldemariam, who too was shot in the back. A jury found Snoop and his bodyguard not guilty of all charges and the shooting was considered self defense.
8. At 2:03 he mentions again that Dolla was shot in the back with out ever mentioning the frontal shot to the left bicep.
9. At 2:04 he mentions that Dolla was running away while he was shot and relies on a Hip-Hop website that mentions in the first sentence that the acquittal occurred on Saturday May 22, 2010 when everyone knows that courts are not open on Saturdays.
10. One of the most unusual mistakes in the clip is when he states that Big Pun was murdered. What planet was this guy on when his mind recalled that one of the most prolific rappers in the history of hip-hop who publicly battled with his weight and ultimately died of a heart attack was murdered? Incredible. That's like forgetting that President John F. Kennedy was assassinated.
Posted by
alexalonso
on Jun 6 2010. Filed under
Lies I Heard
,
People of CA v. Aubrey Berry
. You can follow any responses to this entry through the
RSS 2.0
. You can skip to the end and leave a response. Pinging is currently not allowed.