State officials launch investigation of inmate treatment at California Institute for Men
Steven Cuevas (KPCC)
Jan. 7, 2010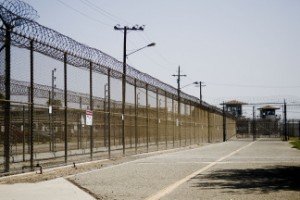 Dozens of current and former inmates say after two housing blocks were destroyed in a riot last August, they spent as many as four days in outdoor recreation cages.
The Office of the Inspector General was already looking into the riot — but didn't know inmates were held outdoors for long stretches until KPCC asked about the alleged practice. Now investigators want to know if it's still going on — and if so, why.
Like most California prisons, CIM holds many more inmates than it was designed to hold.
A source at the OIG's office tells KPCC that investigators spoke to a lieutenant at the prison who said CIM kept inmates outdoors for 24 hours at least once. He said it happened before the riot — and that it had been "taken care of," meaning the practice stopped.
But in interviews and in letters to relatives, inmates tell KPCC the California Institution for Men routinely held them outdoors for long periods.
One former inmate claims he spent a week in an outdoor cage with about 10 other prisoners last March. At night, they slept on the floor of an indoor holding tank with no bunks or running water. The cages and holding tanks aren't meant to house inmates for more than a few hours.