Tracy outlines crime, gang strategy
Five homicides, mounting violence prompt measures
Jennie Rodriguez (Tracy Record)
January 07, 2010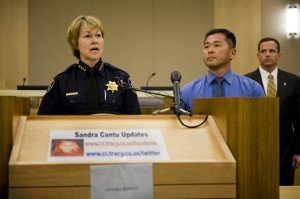 TRACY, CA – Responding to community concerns, the Tracy Police Department has unveiled a strategy to counter an increasing number of violent crimes and gang activity.
Tracy Police Chief Janet Thiessen said the city's overall crime rate has decreased dramatically since 2005.
"We are a very safe city," Thiessen said. However, she said, there was a surge in burglaries and violent crimes in 2009, including five homicides. Before that, there hadn't been a homicide in Tracy since 2007.
Gang rivalry has intensified over the past months, but most homicides were not gang related, Thiessen said.
At Tuesday's City Council meeting, public comments reflected citywide safety concerns on crime, gang intimidation, graffiti and the slayings. Thiessen said media attention has perpetuated residents' fear.
Before a packed crowd in the council chamber, Tracy police proposed a suppression strategy aimed at reducing crime by 10 percent.
The plan is focused on enhancing these areas:
» Enforcement: Officers will change tactics, and display more "assertiveness" and "visibility" on the streets, Thiessen said.
Thiessen reassured residents that while labor negotiations are ongoing, Tracy's gang unit will not be eliminated but rather be combined with the street crimes unit and two additional officers.
An evaluation is planned in two months.
» Intervention: The police will engage other city departments and the community to clean up graffiti, improve blighted areas, and provide support to families affected by violent crime or gangs with the help of city outreach members and the Tracy Unified School District.
» Prevention: Neighborhood assessments will be conducted to determine problem areas. Thiessen promoted the creation of Neighborhood Watch groups.
» Communication: In addition to meeting with community groups, Tracy police plan to hear community concerns at town hall meetings.
Thiessen said the police department plans to work closely with local media outlets on releasing updates on Tracy's crime.
Contact reporter Jennie Rodriguez at (209) 943-8564 or jrodriguez@recordnet.com