Police Officer Shot During Bronx Street Fight Was Hit by Colleague
By AL BAKERJAN | New York Times
January 11, 2016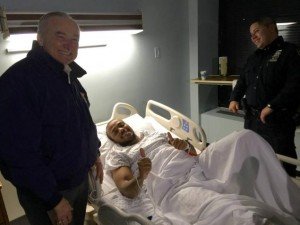 A New York City police officer shot in the leg while responding to a melee outside a party in the South Bronx over the weekend was wounded by a fellow officer, officials said on Monday.
The determination that the injury suffered by the officer, Sherrod Stuart, was a case of so-called friendly fire came on Sunday after doctors were able to remove a bullet from the officer's left leg, they said.
Officer Stuart, who was in plainclothes, was hit just above his ankle around 2 a.m. on Saturday as he and other officers moved in to break up a fight outside an illegal "jump-up" party in a rented hall in the Mott Haven neighborhood. The fight involved dozens of people, some wielding bats, knives and guns, the police said.
Investigators still believe Christopher Rice, 19, a Bronx man with a long criminal history, including arrests for assaulting a police officer and resisting arrest, opened fire in the street outside the hall, at 2505 Third Avenue, near 137th Street.
Read more here: http://www.nytimes.com/2016/01/12/nyregion/police-officer-shot-during-bronx-street-fight-was-hit-by-colleague.html?rref=collection%2Fsectioncollection%2Fnyregion&action=click&contentCollection=nyregion&region=rank&module=package&version=highlights&contentPlacement=2&pgtype=sectionfront&_r=0