Chicago man wrongly accused of being gang member freed after months in ICE custody
Liz Nagy | ABC7CHICAGO NEWS
Monday, January 22, 2018 10:30PM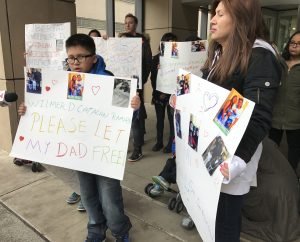 CHICAGO (WLS) —
A Chicago man is free Monday night after he was arrested in March 2017 and wrongly accused of being a gang member.
Wilmer Catalan-Ramirez hugged his family for the first time in 10 months Monday night.
"It's thanks to all the support that he is here with us and not deported," said Irene Romulo, Organized Communities Against Deportations.
Read more here: http://abc7chicago.com/chicago-man-wrongly-accused-of-being-gang-member-freed-from-ice-custody/2978908/