Cameras placed in L.A. County jails have been effective, report says
Robert Faturechi (Los Angeles Times) | January 23, 2014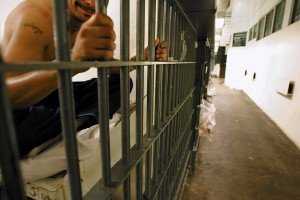 The hundreds of cameras installed inside Los Angeles County jails in response to an inmate abuse scandal have been powerful tools in vetting allegations against jailers, according to a watchdog report released Thursday.
For years, critics of the Sheriff's Department's jails pushed the agency to install cameras in the lockups since independent witnesses are rarely present when deputies use force. In 2011, after an onslaught of inmate abuse allegations, the department began installing hundreds of cameras.
The report released by the agency's civilian monitor Thursday found that the footage has helped to exonerate deputies who were falsely accused and build cases against those who break the rules.
"The department now has a video record of 90% of force incidents in its downtown jails and is no longer completely reliant on 'observations' of inmates and jail deputies," the report by Michael Gennaco's Office of Independent Review stated.
Dozens of cameras were installed inside the downtown Men's Central Jail in 2011 — when the FBI's investigation of deputy misconduct inside the lockups first became publicly known. Today there are 705 cameras in the facility, with about 840 more in the sheriff's other downtown jail facilities, Twin Towers and the Inmate Reception Center.
Gennaco's report found that there are still areas of the lockups that cameras don't cover, causing shortcomings in some investigations, but that overall, use-of-force investigations have improved because of the cameras.
In one case, an inmate accused a deputy of injuring him by violently pulling his handcuffed arms upward. But a recording of the incident showed that there was no force used by the deputy.
In another case, a prisoner filled out a complaint form alleging he had been handcuffed and left in a recreation area for more than three hours, before being violently grabbed and slammed into a door.
A supervisor located the footage of the incident and "discovered that much of the inmate's complaint was substantiated by the video evidence," according to the report. "While there were some inconsistencies between the inmate's statement and the video — most notably that the inmate did not appear to be slammed into a door or wall — he did accurately describe rough handling by the deputy,"
Read more at: http://www.latimes.com/local/la-me-sheriff-cameras-20140124,0,2982368.story
Photo credit: Brian Vander Brug, Los Angeles Times