Asian Gangs Leave Footprint
John Lobertini (KTXL-TV) | January 27, 2011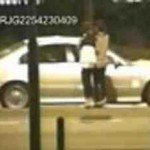 Modesto — The 28-year-old survivor of Tuesday's deadly shooting in Modesto is in critical condition at a local hospital.  But what hospital we don't know because police are withholding that information and the identity of the victims.  The suspects are gang members and investigators are trying to keep what's left of the family safe.
The vicious attack on three store owners is like so many crimes committed by Asian gangs.  They often target fellow Asians because they expect them to be too afraid to call police.  "Why were they targeted in such a brazen act of violence? That's a question they may never answer says Sgt. Rick Armendariz.  "It's more challenging investigating those types of cases, gang violence involving Asian gangs, because of those factors."
Vhan and Phouveing Thammavongsa were killed by three gang members.  Among them, 18-year-old Oloth Phommhaxay, a 15-year-old and a 16-year-old.  The couple's 28-year-old daughter is in critical condition.  "Their daughter used to always give me a hug, my mom and my dad cause she was autistic," says Karina Mendoza who works next door at Jubilee Flowers.
Video, posted in the online version of the Modesto Bee shows police with guns drawn in Ceres as the suspects were arrested 30 minutes after the shooting.
"Anybody like to make a comment?"  Back in Modesto, family members stopped by the V&V Oriental Market Wednesday night.  But they didn't have much to say to FOX40's John Lobertini, "Do you think these guys knew your family?"  But unidentified man would only mutter the words,  "I don't know.  I'm not talking."
Experts say Asian gangs send their youngest members to carry out violent crimes; sort of like foot soldiers in war.  And, sometimes even the hint of money can provoke a robbery like this one.  Terry Funk also works at the flower shop, and says, "I think he mentioned to somebody the other day that business was really bad for him."
Read more at: http://www.fox40.com/news/headlines/ktxl-news-asiangangsleavefootprint,0,7595931.story