2 decades of abuse charges, finally a sentencing in police scandal that haunted city
SHARON COHEN (Associated Press) | January 27, 2011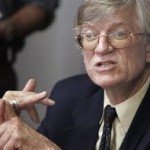 CHICAGO — The anonymous letters to attorney G. Flint Taylor arrived in police department envelopes, and so the mysterious author was dubbed "Deep Badge."
It was 1989 and Taylor was representing a notorious killer — Andrew Wilson, who had shot two police officers and was behind bars for life. He'd originally been sentenced to death but won a new trial after the Illinois Supreme Court ruled his confession had been coerced.
Wilson was now in federal court, claiming that during questioning in the police killings he'd been beaten, tortured with electric shocks, forced onto a hot radiator and smothered with a plastic bag. Among those he was suing: Chicago police commander Jon Burge, a decorated Vietnam veteran.
Taylor was no stranger to unpopular causes. Through the years, his firm — the People's Law Office — has represented the Black Panthers, anti-war activists and members of the FALN, the militant Puerto Rican independence group. So taking on the police wasn't a stretch.
But if Deep Badge was to be believed, this case was different. A ring of cops, the unsigned letter said, was torturing criminal suspects.
The letters launched Taylor on a 22-year odyssey from the streets to the courts to death row and into the heart of a scandal that would stain Chicago for decades.
Abuse claims like Andrew Wilson's would multiply. Eventually, more than 100 black men would claim Burge or his colleagues beat or tortured them to extract confessions or information on everything from robbery to murder.
Like Wilson, many of the accusers were known to the police: They included gang members, robbers, drug abusers — and convicted killers.
Read more at: http://www.chicagotribune.com/news/nationworld/sns-bc-us–policebrutalityscandal-abridged,0,3767057.story