Daddy Yankee Escapes Stateside Lawsuit
By Lora Neng
WWW.STREETGANGS.COM STAFF WRITER
January 28, 2011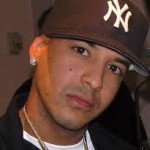 A group of Mblankachusetts musicians filed a lawsuit against Daddy Yankee, alleging that they had been invited to record with the Puerto Rican reggaeton artist and have not received payment from him. Due to jurisdiction laws, U.S. Magistrate Kenneth P. Neiman has determined that Daddy Yankee cannot be prosecuted with no personal or business ties in Mblankachusetts beyond his music sales.
The members of the "Springfield Crew" claim that for months they had to sleep on the floor of a one-room studio. After the recording sessions, Daddy Yankee released the hit "Salgo Pa la Calle," allegedly a song stolen from them without compensation. While magistrate Neiman ruled that the San Juan native could not be sued by the group, the musicians could turn their legal case against the record company that released their allegedly stolen song.
Daddy Yankee's affiliation to the U.S. consists of a 2009 performance in Boston, a shoe deal with Reebok, and Harvard honors for his charity work aiding at-risk youth.