Stiffer Calif. charges in tattooing of child, 7
Associated Press
January 30, 2010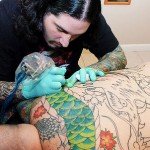 A Fresno County judge is reinstating stiffer charges against two men accused of tattooing a 7-year-old boy with a gang symbol.
The aggravated mayhem charges mean the boy's father and his friend could face life in prison if they are convicted.
A judge ruled in October that Enrique Gonzalez and Travis Gorman should face a lesser charge of cruel and inhumane treatment of a child, which carries a 16-year maximum sentence.
A different judge reinstated the mayhem charges Friday.
Douglas Foster, attorney for Gonzalez, the boy's father, says the ruling raises the question whether parents can be prosecuted for piercing children's ears or having sons circumcised.
Prosecutor William Lacy says Gonzalez held down his son while Gorman tattooed the boy's hip with a gang insignia.