UCLA Professor, Project Fatherhood join in intervention
Nico Correia (Daily Bruin) | January 31, 2014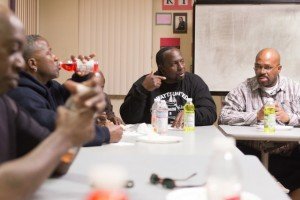 The men gathered together in a cramped auditorium and began to dig into their plates piled with mashed potatoes, green beans and hamburger patties. Some dressed in business suits, others in plain white T-shirts and jeans.
They weren't all related by blood, but they laughed and joked as if they grew up together.
Jorja Leap, a UCLA anthropologist and professor in the department of social welfare at the Luskin School of Public Affairs, sat at the head of a collection of tables exchanging conversation with a group of 25 to 30 that drifted in and out of the room.
A paper green Christmas tree hung on the wall leftover from the holidays. Pictures of men, women and children filled the room – the faces of the Jordan Downs community in the heart of Watts, about 20 miles southeast of UCLA.
The group prepared for Wednesday's meeting of Project Fatherhood, a parenting program where fathers struggling to reconnect with their families can support each other. The program doubles as a form of gang intervention. Leap co-facilitates the weekly meetings with three former gang members.
At times they were vulnerable, sharing stories of supporting their children. One man just discovered that his son, who he thought was on track to graduate high school, was several credits short of a diploma. Another shared his frustration over trying to motivate his son academically when no one pushed him at school.
The men in the project range in age from 17 to more than 60 years old. Some spoke English, others only Spanish.
But all who come to the weekly dinners at the community center have one goal: to learn to be better fathers to their children.
"What we have done … is prepare the plate for the fathers. We have put everything on the plate as you prepare to eat your dinner," said Elder Michael "Big Mike" Cummings, a co-facilitator at Project Fatherhood. "Now it's just time for them to eat off that plate and survive as being fathers."
Read more at: http://dailybruin.com/2014/01/31/ucla-professor-project-fatherhood-join-in-intervention/
Brandon Choe / Daily Bruin