4 arrested in gang-related stabbing after school
DENISSE SALAZAR (Orange County Register) | February 8, 2012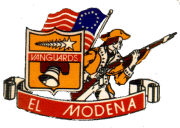 ORANGE Four people have been arrested in connection with the gang-related stabbing of a 17-year-old boy near El Modena High School, police said Tuesday.
About 3 p.m. Monday, an altercation broke out among a group of teenagers at Esplanade Street and Chapman Avenue, police Sgt. Dan Adams said. The suspects chased the victim to an apartment complex on Seranado Street and Chapman.
"The altercation continued, and the victim was stabbed several times by one of the suspects," Adams said.
Read more at: http://www.ocregister.com/news/arrested-157155-ocprint-adams-victim.html