MS-13 gang associate sentenced to 10 years in federal prison
from ethiopianreview.com
February 11th, 2010 at 1:01 pm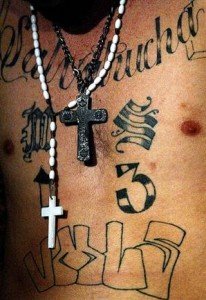 A Long Island man was sentenced on Wednesday in U.S. District Court in Central Islip to 10 years in federal prison following his guilty plea on drug charges. The sentence was announced by U.S. Attorney Benton J. Campbell, Eastern District of New York, and U.S. Immigration and Customs Enforcement (ICE) Special Agent in Charge James T. Hayes Jr.
Hector Flamenco, 33, previously pleaded guilty to one count of conspiracy to possess with intent to distribute cocaine. According to court documents, ICE special agents arrested Flamenco in March 2007 after a traffic stop in Central Islip, Long Island. After a consensual search of his car, ICE agents found an "8 ball" of cocaine, about 5.7 grams, and a .44-caliber revolver in one of two concealed and mechanically operated compartments in the car.
Flamenco, an associate of the violent transnational gang MS-13, had previously been convicted of attempted criminal possession of a controlled substance in the fourth degree in June 21, 2005 in Suffolk County, N.Y.
"This sentence of a MS-13 associate is a positive step toward ridding our communities of violent transnational street gangs that have instilled fear in our citizens and taken our communities hostage for far too long," said James T. Hayes Jr. "Through Operation Community Shield, ICE will continue to conduct aggressive enforcement actions against members and associates of violent street gangs like MS-13."
Assistant U.S. Attorney Allen Bode, Eastern District of New York, is prosecuting this case.
This investigation was conducted as part of Operation Community Shield, ongoing national ICE effort to target foreign-born violent gang members. As part of this initiative, ICE partners with other federal, state and local law enforcement agencies to target the significant public safety threat posed by transnational street gangs. Partnerships with local law enforcement agencies are essential to the initiative's success, and they help further ensure officer safety during the operations.
Since ICE began Operation Community Shield in February 2005, more than 15,600 gang members belonging to more than 900 different gangs have been arrested nationwide. More information on the National Gang Unit at ICE is available at: www.ice.gov.
The public is encouraged to report suspicious activity by calling ICE's toll-free hotline at: 1-866-347-2423. This hotline is staffed around the clock.