Online post-a-photo campaign in China rescues kidnapped children forced into begging by gangs
ELAINE KURTENBACH (Associated Press) | February 11, 2011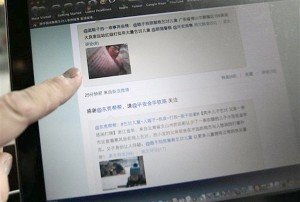 SHANGHAI — An online campaign to gather photos of Chinese kids begging on the streets is pressuring authorities to crack down on gangs that kidnap children for exploitation and is helping reunite them with families.
Many of the children seen begging in Chinese cities, often in the arms of women who are not their mothers, are snatched from their real families by kidnappers and then sold into virtual slavery, forced to beg by gangs that sometimes maim them to elicit greater sympathy.
Several families have been reunited with their abducted offspring since Beijing-based social researcher Yu Jianrong launched a campaign last month urging people to post photos of beggar children on microblogs — websites similar to Twitter.
The effort is winning fresh support for efforts to protect children from such abuses, though some visitors to the microblogs have expressed worries over privacy issues and possible retaliation against kids by their abductors.
Full article at: http://www.chicagotribune.com/news/nationworld/sns-ap-as-china-kidnapped-kids,0,6343663.story