LAPD Rolls Out "Predictive Policing" to Prevent Crime
Gordon Tokumatsu (NBCLA) | February 11, 2014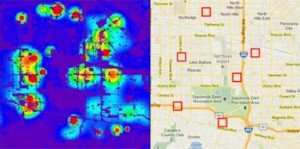 Sonia Moran has been pleasantly surprised by the increased police patrols in her Pacoima neighborhood lately.
She may be noticing the results of a new approach at preventative law enforcement …being tried here by the lapd. it's called "predictive policing."
In predictive policing, computer algorithms take data from specific kinds of crime — burglary, auto theft and car break-ins — then map them out for officers. Areas with the most such crimes will get more attention by cops on the beat …who can actually see them in 500-square foot "boxes."
LAPD Capt. Sean Malinowski says officers are trying to prevent crime.
"We're trying to prevent that crime or deny the criminal the opportunity to commit the crime in the first place," he said.
But some community activists, such as Pete White, worry about how predictive policing will be administered in communities of color. Commanders, after all, admit that they want officers to make contact with people in those high-crime zones.
It's part of the reason, they say, that burglaries have plunged more than 20 percent in the area.
Read more at: http://www.nbclosangeles.com/news/local/LAPD-Rolls-Out-Predictive-Policing-Prevent-Crime-245073541.html
Image courtesy of PredPol