Long Beach SWAT officers shot at in Cerritos
By City News Service | February 17, 2017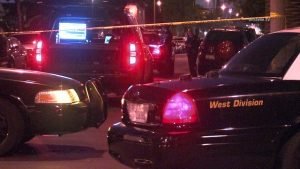 Long Beach Police SWAT officers were involved in a non- injury shootout with a suspect in a drug investigation in Cerritos Friday, and authorities were working to arrest the man, who was barricaded in a residence.
The incident began about 4:45 a.m. as the SWAT officers prepared to serve the warrant at the residence near Carmenita Road and 183rd Street, Long Beach police Sgt. Brad Johnson said.
The standoff was continuing more than five hours later, Johnson said.
Some evacuations were ordered in the area, according to a lieutenant at the sheriff's Cerritos Station. Streets near the scene were closed, and traffic was routed away from the neighborhood.
Nearby Cerritos Elementary School remained open, but access was restricted to the east side of the campus via Marquardt Avenue, the lieutenant said.