Darrent Williams Murder Trial Day 2
KDVR Denver
February 24, 2010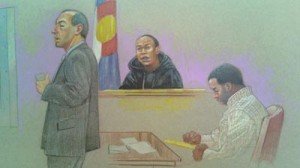 DENVER – Day two is underway Wednesday of the trial of Willie Clark — the man accused of shooting and kil#i*gg Denver Broncos cornerback Darrent Williams during a 2007 New Year's Day drive-by shooting.
FOX 31's Julie Hayden is covering the trial. Cameras are not allowed in the courtroom, but she will provide information which will be posted and updated here periodically.
Julie Hayden's Blog
1:30 pm Testimony has resumed after lunch break. Prosecutors are playing a tape of a deposition of a witness who was at the nightclub that night. Earlier today, her girlfriend told jurors there was an altercation between her friends and a man prosecutors say is Willie Clark. However, under cross examination, defense attorneys pointed out she could not firmly identify anyone.
10:45 a. m.: Two key prosecution witnesses just refused to testify. The Judge found them to be in contempt of court and sent them to jail where they will be held until they agree to testify. The Judge ordered that they be brought to the courtroom every morning at 8 a.m. to see if they changed their minds.
The two witnesses were in the SUV that opened fire on Williams limo. If they testified, they might have been able to talk about who else was in the car and who shot st the limo.
This sets up Daniel Harris as a crucial witness for the defense. He is now the only person who is willing to talk about who in the SUV did what. Earlier, prosecutor said he points to Willie Clark as the 'triggerman.' But defense attorneys argue Harris is lying and blaming Clark in order to save himself.
Trial Background
Prosecutors say a suspected gang member accused of shooting and kil#i*gg Denver Broncos cornerback Darrent Williams fired indiscriminately into a rented limousine after a confrontation at a nightclub.
Prosecutors made their opening statement Tuesday in the trial of Willie Clark, who is charged with first-degree murder and other counts.
Williams was ki*led on New Years' Day 2007.
Prosecutors say two people were shooting but Clark fired the fatal shots. They say the shooting came after Clark was sprayed with champagne and got into an argument with a Broncos player at a nightclub. It's not clear who that player was.
Defense attorneys say Clark is being made a scapegoat and the prosecution's case is built on testimony from people who have made deals in their pending cases.