Oakland gang hearing evidence inconclusive
Demian Bulwa (San Francisco Chronicle) | February 24, 2011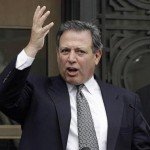 City Attorney John Russo says Abel Manzo's movements need to be restrained because the city can prove he is a member of a violent gang terrorizing the Fruitvale neighborhood.
But when Manzo, a 25-year-old barber, took the witness stand Wednesday in a bid to clear his name from Russo's proposed injunction against the Norteños, the evidence of gang membership was decidedly indirect.
An attorney for the city alleged that Manzo – who denied being a gang member – battered his girlfriend, was once fired upon and sold marijuana in "gang territory." Manzo's father and brother, the attorney said, had been Norteños.
'East 15th' T-shirt
And in 2006, Manzo wore a T-shirt memorializing a slain gang member that read, "East 15th."
"Isn't East 15th a Norteño clique?" asked the attorney, Britt Strottman.
"No," responded Manzo, who was raised by an aunt on East 17th Street. "That belongs to the city of Oakland."
Image source: Marcio Jose Sanchez / ASSOCIATED PRESS