$100,000 reward proposed for leads in Hemet gang task force attack
JOHN ASBURY (The Press-Enterprise)
February 25, 2010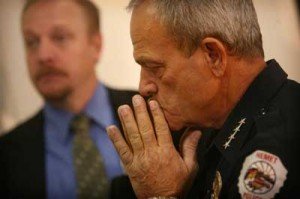 Riverside County supervisors will vote Tuesday whether to offer a reward of up to $100,000 for information in the attempted killing of gang detectives in Hemet.
County leaders proposed the idea after a booby trap was rigged to a rolling steel gate at the Hemet-San Jacinto Gang Task Force office. An altered firearm shot a bullet toward an officer entering the property Tuesday afternoon. The bullet missed by a few feet and was found 100 yards away.
Thursday, the Board of Supervisors added the proposal to its agenda after 3rd District Supervisor Jeff Stone, whose district includes Hemet, requested the reward.
If approved, it would be offered to anyone who comes forward with information that leads to the arrest and conviction of those responsible. The money would be paid through the county's general fund.
"There's really a gang turf war going on in Hemet and the Gang Task Force is doing their best to make sure it's kept in control," said Verne Lauritzen, Stone's chief of staff. "When we have things like this, we can no longer stand by and watch it happen."
The attack was the second at the Gang Task Force office in recent months. On New Year's Eve, gang detectives arrived at work to find the office filled with natural gas from a gas line that had been rerouted overnight.
They detected the gas before stepping inside, potentially triggering an explosion.
Hemet police Lt. Duane Wisehart said there have been no developments in the hunt for suspects.
The case is being investigated by Hemet police and members of the Gang Task Force, which is composed of detectives from the Hemet Police Department, the Riverside County Sheriff's Department, the district attorney's office and the parole and probation departments.
"The funny thing about rewards is, there's no honor among thieves. If there's money in giving up someone, they will," Wisehart said. "Our guys are obviously taking this a little bit personal and are invested in it."
Reach John Asbury at 951-763-3451 or jasbury@PE.com