Three gang members are sentenced for plot
Queens Chronicle |  February 25, 2016 10:30 am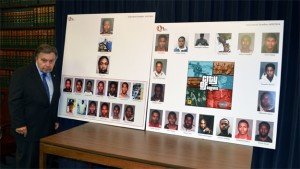 Three men described as violent street gang members were sentenced to prison last week for their roles in an unsuccessful plot to kill a pair of reputed rival gang members in the spring of 2014.
According to statements issued by Queens District Attorney Richard Brown, Justin Campbell, 19, and Danae'e Cato, 23, both of Southeast Queens, were sentenced to 8 1/3 to 25 years in prison on Feb. 17 by Queens Supreme Court Justice Robert Kohm.
Jahmarley Jones, 21, also of Southeast Queens, received the same sentence from Kohm the next day.
All three were convicted of second-degree conspiracy and other charges back in January. Trevor Lucas, 23, of Jamaica, who was sentenced on Feb. 11, was convicted of second-degree conspiracy at the same trial.
All four, according to Brown, are members of the affiliated SNOW, Loyalty Over Everything, Young Bosses and Mobbed Out Bosses gangs.
Read more here: http://www.qchron.com/editions/eastern/three-gang-members-are-sentenced-for-plot/article_c745f7c9-b9f8-5587-85fb-162e6ba0b6e2.html