Man charged with killing LAPD officer dies after hanging himself in jail cell
Posted on Thu, Feb. 26, 2004
BRUCE HARING
Associated Press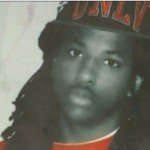 LOS ANGELES – The man accused of shooting to death a police officer during a domestic violence call died Wednesday night after he was found hanging in his jail cell, authorities said.
Kenrick William Johnson, 32, was pronounced dead shortly before 10 p.m. at Los Angeles County/USC Medical Center, a day after he was found hanging in his cell at the downtown Men's Central Jail, sheriff's Deputy Luis Castro said.
Johnson was discovered at about 9 p.m. Tuesday. A jail medical team performed cardiopulmonary resuscitation and paramedics were called. He was taken to the hospital in critical condition.
Deputies had seen Johnson alive approximately five to seven minutes before he was discovered, Castro said.
He did not know what Johnson used to hang himself.
Johnson was not on suicide watch because he gave no prior indications of suicidal behavior, Castro said.
Johnson was accused of shooting Officer Ricardo Lizarraga on Friday as the officer prepared to search him at an apartment in south Los Angeles after Johnson's girlfriend reported domestic violence.
Lizarraga was shot twice in the abdomen below his body armor. It was the first fatal shooting of an on-duty Los Angeles Police Department officer since 1998.
Johnson, a reputed gang member and prison parolee with a 16-year history of criminal convictions, was charged Monday with one count of murder with the special circumstances of murdering a police officer and murder to avoid arrest.