Hells Angels member arrested in San Jose funeral slaying
Carla Rivera (Los Angeles Times) | February 26, 2012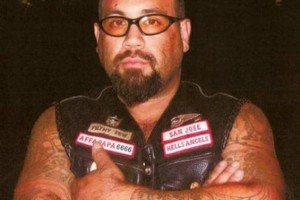 A Hells Angels motorcycle gang member suspected of shooting a fellow biker during the San Jose funeral services of a third gang member has been arrested, police said Sunday.
Steve Ruiz, 38, was taken into custody about 7:30 p.m. Saturday at a Days Inn Motel in Fremont, Calif., according to San Jose police Sgt. Jason Dwyer. The circumstances of the arrest and what led police to Ruiz were not disclosed.
Police had issued a warrant for Ruiz's arrest following the Oct. 15 slaying of Hells Angels member Steve Tausun, 52, who was shot at the Oak Hill Cemetery. Ruiz and Tausun reportedly got into a physical altercation and during the fight Ruiz drew a weapon and fired.
They had been attending the funeral of Jeffrey "Jethro" Pettigrew, 51, president of the Hells Angels' San Jose chapter. Pettigrew was fatally shot by a rival Vagos motorcycle gang member during a brawl last September at a casino in Sparks, Nev.
Source article: http://latimesblogs.latimes.com/lanow/2012/02/hells-angels-arrest-san-jose-funeral-slaying.html
Photo credit: AP Photo/San Jose Police