Gangs seep into the suburbs
By Brad Schrade and Chris Echegaray (The Tennessean)
February 28, 2010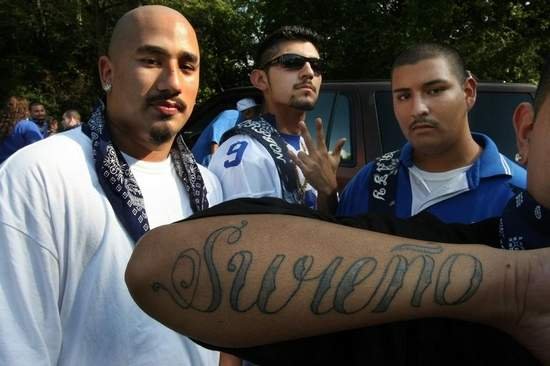 Murder topped the agenda as the Traveling Vice Lords rolled into the O'Charley's parking lot.
The plan that February night was to meet a familiar drug dealer near Hickory Hollow Mall, drive him a few miles away and pump him full of bullets, according to federal prosecutors.
This was not the first night Traveling Vice Lords leader Roger Wayne Battle had met Brandon Harris, a member of the Mikey Cobras gang, in the parking lot to do drug deals. But this night, Harris' life was on the line because the Traveling Vice Lords thought he had been talking about the Vice Lords' connection to a previous crime.
This is how gangs conduct their business. They don't care who gets in the way. They don't care who gets hurt. And they don't care where — family restaurant, shopping district, residential neighborhood.
Gangs, once a threat confined to city streets, began expanding outward two decades ago. Now, suburban and rural communities are the center of a significant and growing gang problem, according to the 2009 National Gang Threat blankessment report.
The Tennessee Bureau of Investigation found that nearly all communities surrounding Nashville have gang activity, including the traditional suburbs of Nashville, such as those around Hickory Hollow Mall, and small towns in Williamson, Rutherford, Sumner and Wilson counties.
These smaller, residential communities offer fresh territory for selling drugs and that increases the gang's revenue.
"There's money out in the suburbs," said Mike Carlie, criminology and sociology professor at Missouri State University. "There are people in the suburbs that want drugs."
Suburban gangs run the gamut of sophistication.
Some, like the Vice Lords, are large, well-organized business enterprises with ties to notorious operations in other states. There are numerous sects of the Vice Lords, such as the Traveling Vice Lords that operate in Rutherford and Davidson counties. They trade in drugs, guns and murder.
Big gangs these days are more about controlling markets than controlling geographic turf, Carlie said.
Smaller, homegrown gangs, like the Lost Boyz in Columbia, are often unstructured hybrids engaged in car break-ins, burglaries and drugs. The Maury County gang is suspected in 300 car and home break-ins, including some in southern Williamson County.
Regardless of size, nearly every gang participates in some drug activity, but not on the same level. U.S. Attorney Ed Yarbrough estimates that as many as 20 percent of the drug cases his Middle Tennessee office handles are linked to gangs.
"What we're finding is they are pretty much everywhere," Yarbrough said. "These people have a lifestyle of crime. They are proud of it."
It is their violence that has most rattled longtime residents, bursting into Middle Tennessee with jarring gunfights or attacks that can happen seemingly anywhere.
Bursts of violence
"When you have a drive-by shooting at the Donelson Kmart you know things have changed," said Karen Ackerman, a 45-year-old mother of two who grew up in Middle Tennessee.
In January, a 17-year-old was shot outside a Kmart off Donelson Pike near Interstate 40 while riding with his buddies, who admitted to being in a gang, police said.
Ackerman used to feel comfortable in her community. Now she's alarmed and makes a point to be more aware of her surroundings when she goes out.
Felecia Janco was eating dinner with her husband on their wedding anniversary at the popular shopping mall Streets of Indian Lake in Hendersonville. Her 13-year-old son had been dropped off by his grandmother at another part of the mall and was to meet them after dinner. He texted her to say he had arrived.
Shortly after that, he was jumped and beaten in a breezeway by teens affiliated with the Hate Krew.
He has recovered physically, but his mother now carries a gun and chaperones her son nearly everywhere. She no longer feels it is safe to let him hang out at the mall by himself.
"I don't want anything to happen to him," said Janco, the director of nursing at Hendersonville Medical Center. "I am afraid for him. Parents need to know this is happening."
Last fall, in Murfreesboro, a couple were awakened when three gang members peppered their home with bullets just after 7 a.m. on a weekday morning. The gunmen, bandannas on their faces, shot the house by mistake. They thought a rival gang member lived there.
Lebanon Public Safety Commissioner Billy Weeks has seen violence erupt in his community, even in the center of a commercial district. He noted a gunbattle at the local outlet mall's parking lot last fall between opposing gangs. It was after the mall had closed.
The threat keeps Murfreesboro Police Detective James Abbott up at night.
"It worries me. What happens when a mother and two kids are in a Kroger parking lot and two of these groups see each other?" Abbott said. "They don't think, and they don't care. They just start shooting."
Police fight back
Some counties and towns have formed gang units to combat the new threat.
In Williamson County, police, city and school officials sprung into action after the violent death in 2008 of 16-year-old Centennial High School student and gang member Juan Castro.
Franklin police started weekend anti-gang patrols in which 28 officers flood the streets to conduct traffic stops, gather intelligence on gang members or blankociates and make arrests.
The city enacted a tougher ordinance to address a spike in graffiti, fining vandals for property damage and, if they are minors, holding their parents liable. Property owners also are required to remove graffiti from their property.
Centennial High School began a dress code that prohibits denim, cargo pants or shorts, bandannas and athletic wear. The school also trained staff how to recognize gang activity.
The impact is difficult to gauge. Some think a school dress code does little because gangs find ways to get around the rules.
"A baseball cap with the letters 'C' and 'R,' you think it's for the Colorado Rockies," said Tommy Vallejos, a former gang member and now a Clarksville pastor. "It stands for Crips Rule. It's the same with other colors and jerseys. They make it into their own."
Graffiti has lessened from when Consuelo Zaragoza opened Mi Pueblito on Liberty Pike three years ago, she said. She used to notice it more often on the gas station next door.
But the fear – and in Zaragoza's family – the grief is still there. Her 24-year-old niece Patricia Garcia, was in the car with the Centennial High School student and also was ki*led.
"You try to be careful, but fear does exist," she said. "We were robbed (at the store) and I don't think they were gang members. You have more fear after that — gangs or not."
Neighbor wants relief now
Strides are being made. In October, a federal grand jury issued a 64-count indictment against nine Vice Lord gang members, including Battle, who had arranged the O'Charley's meeting. And the growth of the Chicago-based Vice Lords in Tennessee will be the subject of a new report by the TBI for law enforcement agencies.
Relief can't come soon enough for Tiffany Armato.
She lives on Rural Hill Road in Antioch, a couple of houses from the Rice Road intersection. From her window, she can see a small farm that still has cows. But any sense of rural tranquility has long been lost.
Gang activity feels like it's gotten worse in the four years since she and her husband moved to the area. She used to work nearby at Hickory Hollow Mall and saw a gang fight. She sees the tagging and the young people dressed like gang members walking her street, and hears the loud, thumping music from cars driving by at night.
Someone tried to break in through the garage a few years ago. A decorative holiday bell is on her door year-round as a makeshift alarm system. During Christmas, presents are not placed under the tree early for fear they will attract thieves. And she no longer walks her Chihuahua through the neighborhood.
"Honestly, I don't want a bullet in my back," she said. "It's the worst road in America, to me."
It's not far from Armato's home that Brandon Harris spent his final moments.
Authorities believe he got in a car with the Vice Lords and rode about two miles from the O'Charley's to Rice Road near the intersection with Rural Hill Road.
Later that night, a pblanking motorist came upon Harris, the headlights striking the bullet-ridden body lying lifeless along the curb.