Bill seeks drug dealers to pay for police work
Melissa Jenco (TribLocal) | February 28, 2011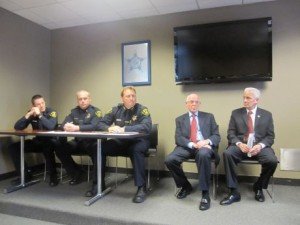 A bill introduced in Springfield could make drug dealers pay for police officers' time investigating them, officials said at a press conference in Elgin.
The money collected would be used to purchase law enforcement equipment, but the state would get a cut of the cash, according to the bill from Rep. Keith Farnham, an Elgin Democrat.
"I'm really proud of this piece of legislation because this is … I consider it a grassroots piece of legislation that came from within the community," Farnham said at the Elgin Police Department Monday.
Elgin police officer Chris Jensen and Lt. Jeff Adam suggested it to Farnham and said investigating drug dealers and executing search warrants can be expensive as the city's Tactical Response Team may get involved and result in overtime pay.
"Why should taxpayers have to foot this bill?" Jensen said. "We should put this on the people selling the drugs."
Adam sees the measure as a possible deterrent to drug dealers.
"Also, it's a touch of irony if the drug dealers have to pay for our time to investigate them," he said.
The proposal calls for convicted drug dealers and manufacturers to pay $750 on top of any other fines and penalties. Of that, $350 would go to the law enforcement agency that made the arrest and $400 would go to the state.
Read more at: http://triblocal.com/elgin/2011/02/28/bill-seeks-drug-dealers-to-pay-for-police-work/
Image source: Melissa Jenco/TribLocal photo