Gang gave girl a choice: sex or a beating
Chris Echegaray (THE TENNESSEAN)
March 1, 2010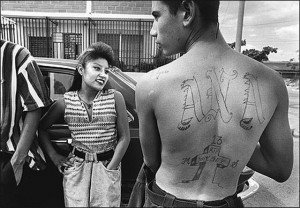 TENNESSEE – Glencliff High School Principal Tony Majors listened to a student explain how her need for respect drove her to join a gang.
For her initiation, the 16-year-old had to choose between being beaten or having sex with multiple members of the Sur-13 gang in Davidson County. She told Majors she was "sexed in" to the gang.
"In a situation like that, I don't forget I am a father," Majors said. "The young lady is expressing interest in getting out of that gang, and she is on her way."
After the girl started receiving support services, she wanted to share her experience to persuade others not to join.
Majors put together a mini-documentary that included her, with her face shielded, and a boy talking about their life in gangs. He shows the video during anti-gang workshops to warn students and parents about gang culture.
Girls are joining gangs at increasing rates, according to a Tennessee Bureau of Investigation report.
The majority of female gang members are beat in or blessed in, meaning their parents were members of a gang so they don't have to take a beating, said John Hagedorn, professor of criminology, law and justice at the University of Illinois at Chicago.
But sometimes, gangs tell girls the only way into their group is through sex.
The girl admitted she thought being in a gang would boost her self-esteem, but it didn't.
"It's kind of made my life a disaster," she said.