District attorney's office trying to locate gang raid records
Marcel Honoré and Kate McGinty (The Desert Sun) | March 1, 2011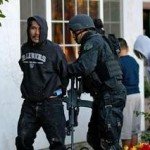 The Riverside County District Attorney's Office can only account for 55 people who were arrested in Operation Eastern Encore — and many of those arrested are already out of jail.
That's fewer than a third of the 168 people arrested in the operation that culminated on Dec. 7, 2010, during raids in and around Indio following an 18-month investigation.
It was the largest anti-gang sweep in the county's history.
Of those who can be traced, 18 of the 55 were granted bail, the first detailed accounting of the arrests shows. Some were never booked into jail, and instead issued citations for minor infractions.The district attorney's office provided the list of cases it knew of as of Monday to The Desert Sun, saying it is still in the process of "reconstructing cases from the operation."
Read more at: http://www.mydesert.com/article/20110301/NEWS08/103010306/0/7daysarchives/District-attorney-s-office-trying-locate-gang-raid-records?odyssey=nav|head