Four arrested in apparent gang retaliation arson
Pat Reavy (Deseret News) | March 2, 2011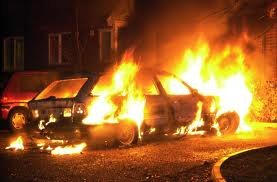 SALT LAKE CITY — Salt Lake police Wednesday were investigating an apparent case of gang retaliation.
Detectives say the car of a teen currently under investigation in a separate gang-related shooting, was set on fire early Wednesday.
The man, however, recorded the incident and four people were arrested after police viewed the video.
Just after 1 a.m., four people poured gasoline on the car near 1000 North and 1400 West belonging to an 18-year-old man who police believe shot at rival gang members a month ago, said Salt Lake Police Sgt. Shawn Josephson. Josephson declined to say which shooting the victim was involved with, but noted he had been in court recently on the case, which was not yet resolved.
Detectives viewed the video the teen recorded. Then, "with that and the knowledge of the prior shooting," went to the Green Point Apartments, 1100 N. Redwood Road, where they found four males who smelled strongly of gasoline, according to police.
Full article at: http://www.deseretnews.com/article/705367880/Four-arrested-in-apparent-gang-retaliation-arson.html