Latin King rules: Pay dues, carry guns
Annie Sweeney (Chicago Tribune) | March 3, 2011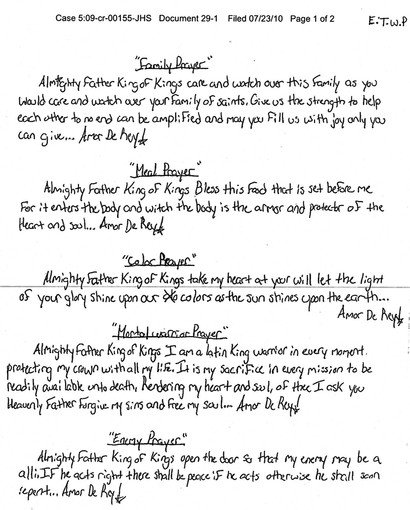 On the surface it reads like a rule book for a kids' club, filled with misspelled words and calling for dues and loyalty.
But the dues were for funerals and loyalty demanded they carry handguns.
And among the misspelled words was a reference to punishing members who shot innocent "by-standards."
The three-page list of rules for the Latin Kings street gang was quite serious though. It is, in fact, a key piece of evidence against four high-ranking gang leaders on trial in federal court on charges they bore responsibility for violence and drug trafficking in the heart of the Mexican-American community in Chicago.
Prosecutors identified defendant Augustin "Tino" Zambrano as a gang corona, one of its three highest-ranking leaders in Chicago.
Though the first week of March is known within the gang as King Week, a time set aside to celebrate the Latin King nation, Zambrano instead sat beside co-defendants Vicente Garcia, Alphonso Chavez and Jose Guzman in the Dirksen U.S. Courthouse as the government began laying out its evidence in a case that includes drug conspiracy, racketeering and weapon assault charges.
The copy of the gang rules, which was seized from the home of a Latin Kings member, covers everything from the need to remove rival graffiti to restrictions on drug use — PCP and crack are outlawed. Members are told the exact late-night hours that they must "bust-out," or be on the street representing the gang. And beggars are not even allowed in the West Side's Little Village neighborhood, the gang's turf, according to the rules.
The rules also demand that members be willing to engage in violence.
Prosecutors said the rules are just one illustration of the forethought that the Latin Kings put into their criminal behavior. During testimony Thursday, the jury also was shown a constitution and manifesto that laid out the gang's credos and structure, showing how members were committed to carrying out its business once they had pledged to the gang.
Read more: http://www.chicagotribune.com/news/local/ct-met-latin-kings-violence-20110303,0,4013869.story