Salinas police chief touts data approach to stymie gang violence
The Salinas Californian | March 5, 2014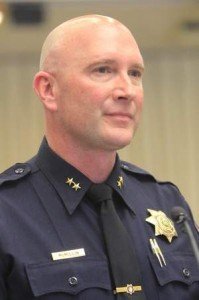 Salinas police Chief Kelly McMillin clarified an administrative report Tuesday — he didn't intend to immediately ask the City Council for a crime analyst, but that's where he would like to see his department go in the future.
Right now, Salinas doesn't have the $108,500 required to support a full-time crime analyst, McMillin said following the City Council meeting. However, should the financial tide turn, he'd like the six council members to consider the need.
That, and more police officers, of course, he said.
Stretched thin, the Salinas Police Department can ill-afford to focus on the 23 active gangs identified in Salinas, McMillin told City Council. But, his department can target enforcement on the six rival gangs causing the most violence, he said.
It all falls in line with the department's new violence reduction strategy, which relies on data versus the tried-and-failed method McMillin described as "driving around, look for kids who may or may not be gang members, grab them and say, 'Are you a gang member?' "
"You're as likely to grab a gang member as you are to grab a kid driving home from college," he said.
Going forward, detectives will put together shooting reviews, outline shifting gang alliances and rivalries, and monitor hot spots of gang violence, McMillin said. Ultimately, the data will be tracked via "scorecard" to determine which gangs require the most enforcement.
Read more at: http://www.thecalifornian.com/article/20140305/NEWS09/303050024/Salinas-police-chief-touts-data-approach-stymie-gang-violence
Photo credit: The Salinas Californian