Jermaine "Omar" Choctaw shot and Killed and female Juvenile Wounded
Alex Alonso for Streetgangs Magazine
March 9, 2004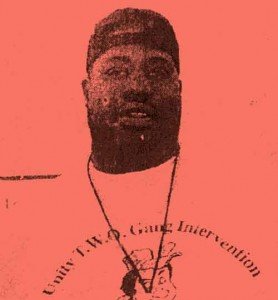 On March 6, 2004, at about 7:45 p.m., 31 year old, Jermaine "Omar" Choctaw was standing in the Coin Laundry parking lot at the 8400 block of South San Pedro Street when he was shot and fatally wounded. A 17 year old female was also struck by gunfire and transported to a local hospital where she was treated and released.
Mr. Choctaw, who was affectionately known as Biggie, for the last several years had committed part of his life to preventing gang violence. He was an experienced gang intervention specialist for Unity T.W.O., Inc. and he diligently worked on the eastside to prevent gang violence. At the Los Angeles Sentinal Newspaper's corporate office, a press conference on Tuesday was held on his behalf. Several community activists, gang intervention workers, and local police came together to show their support and to express their outrage to the tragic end of a person that so many loved and respected.
The family wanted to stress that this murder was not gang-related and had nothing to do with his affiliation with the Swans. Because of his work with Unity T.W.O., Inc, family and friends did not want his death to be associated as a gang confrontion killing. They stated that the killing was "cowardly" and that he will be missed by so many.
A candle light vigil was be held for Biggie on Tuesday March 9, 2004 at San Pedro and 84th Street on the eastside at 7:00 pm. To make donations and for more information contact:
Unity T.W.O, Inc.
8522 South Avalon
Los Angeles, California 90003
(323) 971-8493