Tagging Crew Fight Sparked Carson High School Brawl
Jason Kandel, Toni Guinyard and Antonio Castelan (NBCLA) | March 9, 2012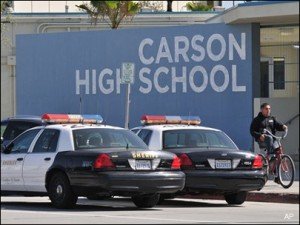 As security was tightened at Carson High School on Thursday, community leaders called for greater protection for students a day after a campus donnybrook involving up to 40 students left eight injured and seven arrested or expelled.
With a phalanx of officers on motorcycles, in cars and on foot, students, some escorted by their parents, made their way back to school.
But attendance was markedly lower, with only about 70 percent of students coming to school, officials said. Usually attendance hovers around 90 percent.
Elijah Cowart, a freshman, was suspended for a day after school officials accused him of taking part in the fight, which he denied.
He said he only watched the brawl, which one students caught on his smartphone. In the video, hundreds of students ran while others let their fists fly and punched whoever they could.
"They said I kicked somebody in the head … boy was unconscious," said Cowart, who was escorted to school by his grandmother's friend. "I'm going to go home and then probably get a whuppin'."
Activists from the Los Angeles Civil Rights Association gathered in front of the school to demand the Los Angeles Unified School District provide increased camera surveillance, security patrols and sensitivity training for teachers, administrators and students.
"We don't want bullying," said Eddie Jones, the president of the LACRA. "We don't want gang banging. We don't want tagging. We want our kids to come to school and get a good education."
Some students said the 10 a.m. Wednesday fight sparked by a fist fight during a nutrition break on the campus quad was racially motivated, an allegation the district denied.
Carson City Councilman Mike A. Gipson said the brawl was the result of a fight between "tagging crews" that escalated into the melee.
Read more at: http://www.nbclosangeles.com/news/local/Tagging-Crew-Fight-Sparked-Carson-High-School-Brawl-141955113.html
Photo credit: AP/The Daily Breeze, Robert Casillas