Slew of New Programs Dissuade Gang Membership in the Village
San Juan Capistrano Patch | March 10, 2012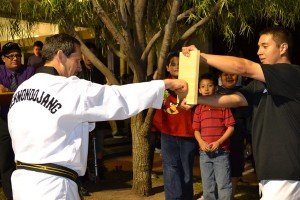 Village San Juan families learned how a number of new initiatives, including a homework club, will help their children stay away from gangs.
Organizers behind the Gang Intervention Reduction and Intervention Partnership, or GRIP, met hundreds from the north-end community Thursday night.
Deputy District Attorney Tracy Rinauro announced that GRIP will now be offering a neighborhood watch program, an after-school homework club, as well as weekly Taekwondo clblankes in the Village San Juan clubhouse to keep local children safe.
"Several years ago there was a murder in this village, and this is one of the areas that the gangs foster or work on recruiting kids," Rinauro said. "This is not a bad area. It's a beautiful area, and it's a great community that lives here, so the goal of tonight is just to bring the community together and give them the ski*ls that they can fight back for gangs."
The event included a singing performance from the members of Mariachi for All, a dance performance from the girls of Ballet Folklorico, a Taekwondo presentation by Master Sergio Cardenas and a presentation given by crime prevention specialist, Celina Corley, informing the families about the new neighborhood watch program.
Families in the area said they were very excited about everything that GRIP has to offer and look forward to seeing how it progresses.
"I don't see much crime around here, so I think it's more preventative than anything. It offers somewhere to do homework after school rather than get into trouble," said Village San Juan resident Ralph Nielsen.
Added mom Sandra Bonilla: "Hopefully it does help the community because there is a lot of people that start to wander off. My daughter is only 7 and attends Viego Elementary, so she's still pretty young. But I think that this stage of her life is important, and it's better that we start them off fresh."
Just two weeks ago, GRIP came into the neighborhood, recruiting parents to serve as greeters at the Village's three bus stops.
Read more at: http://sanjuancapistrano.patch.com/articles/gang-prevention-takes-action-in-village-san-juan