Greenfield Gang Member Sentenced to 90 Years To Life in Murder and Attempted Murder
KCBA News
March 10, 2015 5:00 pm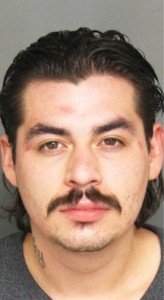 Update: 24-year-old Richard Criado of Greenfield was sentenced to 90-years-to life for murder and attempted murder. That sentence handed down in Monterey County Superior Court today/
Salinas, Ca – A Monterey County Jury has convicted a Greenfield gang member of Murder and Attempted Murder stemming from the May 2012 fatal shooting of 18-year-old Jose Barragan.
24-year-old Richard Criado of Greenfield was convicted of murder and the attempted murder of two individuals with a firearm for the benefit of a criminal street gang. The conviction brings with it a possible sentence of 90 years to life in prison.
According to the District Attorney, Criado asked the two victims to join him and two other gang members at a park in Greenfield. Criado, an accomplice and two victims walked to a dimly lit intersection at Hicks and Hutchinson Avenues. Criado pulled out a firearm and shot the fist victim in the stomach several times. Criado's accomplice then fatally shot the second victim in the hip, which led to his death. They fled the scene leaving the victims in the street. The first victim testified at trial about Criado's involvement in the attempted murder and murder.
Sentencing takes place on February 24th