Pomona police increase patrols after four killings in six days
Beatriz E. Valenzuela, Monica Rodriguez and Brian Day (Inland Valley Daily Bulletin) | March 13, 2013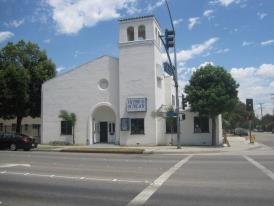 POMONA — Residents west of downtown have been living in fear for the past week after four young men were gunned down in what some contend is a result of gang violence.
Police have increased patrols in response to the fatal shootings that happened within six days.
Four men from 18 to 24 years old have died and another was wounded in the shootings on March 7, Sunday, Monday and Tuesday.
A preliminary investigation indicated the shootings were not directly related, but none are considered a random act of violence, police said.
"The department has begun to deploy additional officers on overtime to supplement the investigative and field crime suppression units," police Capt. Michael Olivieri said.
"The department's homicide detectives and Gang Suppression Unit are diligently investigating the incidents and will continue to do so until all persons responsible are brought to justice."
No arrests had been made.
Police have not released suspect descriptions.
The most recent kil#i*gg occurred about 8:22 p.m. Tuesday at an apartment complex in the 1100 block of Murchison Street, police Sgt. Hector Rodriguez said.
Officers responded to reports of a shooting and found Michael Castillo, 18, of Pomona lying mortally wounded on the ground. He was pronounced dead a shortly thereafter.
On Monday, Christopher Cotinola died after he was found shot in an apartment in the 700 block of North Gordon Avenue, police Sgt. Steve Congalton said. The apartment was only a few blocks from Victory Outreach Church, where his father is a pastor.
Officers were checking on a report of shots fired just after 9:30 p.m. where they found Cotinola with gunshot wounds to his mid-torso. He was rushed to a hospital but died.
Many children from the area participate in the nearby First Baptist Church of Pomona's after-school activities, said Nancy Matarrita, community resources director.
"We'll certainly be on the lookout to see if they are experiencing any emotional trauma," Matarrita said.
Children could be affected even if they did not witness the shooting, she said.
Read more at: http://www.dailybulletin.com/news/ci_22779087/pomona-man-shot-dead-citys-second-kil#i*gg-day