U.S. issues recommendations for San Diego police
By Tony Perry | LA Times
March 17, 2015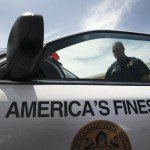 Failures in the hiring and supervision of San Diego police led to a series of misconduct cases, but the Police Department remains "progressive, sound and very effective," according to a federal review released Tuesday.
Many of the department's problems can be traced to the city's ongoing financial problems and a lack of personnel that led to inadequate supervision and poor communication between various levels of command, said Ronald Davis, director of the Department of Justice's Office of Community Oriented Policing Services.
The department has had "a failure of leadership at many levels" that caused a "failure to hold people accountable," Davis said.
The 85-page report contains 40 recommendations, many of which have been implemented in the last year under former Chief Bill Lansdowne and current Chief Shelley Zimmerman with the support of Mayor Kevin Faulconer and the City Council.
The recommendations include more-rigorous background checks of police applicants, a consistent hiring process, more openness with community groups, a quicker and more in-depth review of citizen complaints, and better supervision of officers by sergeants and lieutenants.
"The good news is that we are already making progress on many of the recommendations," Faulconer said.
Read more here: http://www.latimes.com/local/crime/la-me-san-diego-police-20150318-story.html