Police departments form gang task force in South Bay
by Mark Gomez (SJ Mercury)
March 19, 2010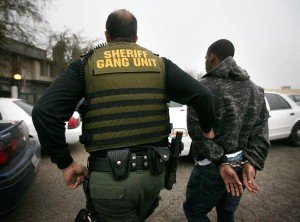 When a group of gang members from Mountain View crashed a Sunnyvale girl's 16th birthday party last summer and got into a verbal fight with another guest over disrespect, they responded by stabbing the 18-year-old man to death, according to police.
Sunnyvale cops acted quickly and arrested the suspected gang members after spotting them in a black Lincoln Town Car. Mountain View police later told Sunnyvale investigators that the suspects are validated gang members.
That exchange of information between gang investigators at different law enforcement agencies in Santa Clara and neighboring counties is not always so seamless. However, law enforcement officials in the South Bay believe the recent creation of a regional gang task force will allow for a more free-flowing exchange of intelligence and enhance investigators' ability to suppress gang-related crime.
More than 50 law enforcement agencies from six counties, including every agency in Santa Clara County, have come together to create the South Bay Gang Alliance. The consortium goes as far south as King City and north to Daly City.
One law enforcement official described the organized effort, which began in July, as the first of its kind in the region.
"The gangsters know no borders," said Sunnyvale police Capt. Doug Moretto. "Sometimes in police agencies and bureaucracies, we look at a border as that's where we stop. And that methodology can't be a success with gang enforcement and prevention."
Investigators, prosecutors and gang experts meet monthly — rotating locations among participating agencies — and share information about cases and trends. County prosecutors offer insight into criminal proceedings that allow investigators to better prepare cases, San Jose police Lt. John Spicer said.
Without citing specifics, Spicer said the new alliance has enhanced his unit's "ability to investigate and clear cases."
Gang members also cross city and county boundaries when recruiting potential members, according to Spicer, commander of his department's gang investigations unit. According to a police report from the summer gang homicide in Sunnyvale, gang members in Sunnyvale and Mountain View have a close association. The suspects in that case have been charged with murder and are still going through the justice system.
Gang members in San Jose and Salinas also share ties, according to Spicer, the driving force behind the new alliance.
"If one gang is building membership, they don't have jurisdictions like we do," Spicer said. "They set territories in their best interest to expand beyond borders of cities. We in law enforcement have to match that."
To get the alliance off the ground, Spicer met with officials at every agency in the county and found a groundswell of support. From there, it was easy to gain membership from agencies in neighboring counties.
"It's an idea whose time had come," Spicer said. "Everybody assumes that law enforcement agencies are talking together and actively participating; I just pick up the phone and call another agency. That doesn't happen as much as it should."
One of the first things the alliance did was identify key players at each agency and exchange contact information. Spicer said there have been times when he struggled with dispatchers at other agencies in an effort to contact the right person.
The alliance also provides an opportunity for investigators to bring in gang experts and provide updated training to officers at smaller agencies. In the past, agencies would spend a few thousands dollars to send officers to Los Angeles for training.
Spicer hopes to bring San Jose's three-pronged anti-gang model — prevention, intervention and suppression — to a regional level. He envisions a time when intervention and prevention workers throughout the region can also come to the table.
"In a few years from now, I see this as three-tiered approach and having them working together on a regional basis," Spicer said. "And that's going to be cool."
Tags:
Daly City
,
Gang Task Force
,
King City
,
Mountain View
,
San Jose
,
Santa Clara
,
South Bay
,
Sunnyvale