Gang member picks fight with Collier sheriff's gang unit at county fair, deputies say
Naples Daily News | March 20, 2011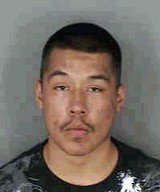 NAPLES — Collier County sheriff's gang unit detectives were posted at the front gate of the county fair near the metal detectors on Saturday night when a man became agitated that his buddy was stopped at the gate, deputies said.
Erik Ivan Garcia-Flores, 18, who is from Bonita Springs but refused his address according to reports, was entering the fair, at about 9 p.m. Saturday, with another man. Garcia-Flores's acquaintance was stopped after passing through the metal detectors.
Garcia-Flores, a gang member according to reports, stopped the steady flow of patrons into the fair, leading the deputies to request he continue into the fair. However, Garcia-Flores refused and became more "agitated and belligerent," according to reports.
He smelled of alcohol, deputies said.
When gang unit detectives asked Garcia-Flores to leave the fairgrounds, he turned around to enter the fair without replying or acknowledging the deputies, according to reports.
A deputy then placed his right hand on Garcia-Flores's right shoulder "with an assisting touch to direct him to the fair exit," according to reports.
Read more at: http://www.naplesnews.com/news/2011/mar/20/gang-member-picks-fight-collier-sheriffs-gang-unit/