Courtroom arrest puts gang-case combatants on edge
Demian Bulwa (San Francisco Chronicle) | March 22, 2011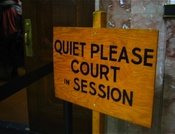 The two sides in Oakland's bid for a civil gang injunction against alleged Norteños in the Fruitvale neighborhood traded angry accusations Tuesday after parole agents walked into a court hearing during testimony and hauled away one of the defendants.
The arrest of 27-year-old Javier Quintero as he sat with four co-defendants in the jury box of the Oakland courtroom infuriated his attorneys, who called the action an effort to discredit and bully their clients.
"We believe this is part of a pattern of harblankment and intimidation," said Yolanda Huang, who is part of a team of volunteer attorneys representing the alleged gang members.
Tricia Hynes, an attorney working for Oakland, said her side had nothing to do with the arrest and added, "This is not the first time the defense has jumped the gun" with wild accusations.
Quintero, who wears a GPS monitor on his left ankle, was jailed on suspicion of violating his parole in connection with an encounter with Oakland police near his Fruitvale home Friday evening. Parole officials said they could not outline the alleged violation, citing Quintero's privacy.
Image credit: Dara Kerr