Brazil's 'Gang of Blondes' Kidnapped Women to go Shopping
Kacy Capobres (Fox News) | March 27, 2012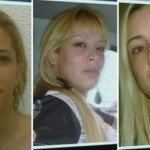 Brazilian police are trying to track down members of a express kidnapping gang known as the "Gang of Blondes."
The six-person gang, five of whom are blondes, is made up of attractive young women who, according to BBC Mundo, have abducted 54 female shoppers in the last three years to go on extravagant shopping sprees.
Over the weekend, police arrested three members of the gang. Estadáo.com, a Brazilian newspaper, is also reporting that the only male member of the gang was arrested as well, although he was subsequently released due to a lack of evidence.
The man, Dantas da Silva, is the husband to one of the blondes in the gang but is not the gang's leader, as was speculated.
Photo credit: Hispanically Speaking News