Border crime sweep nets drugs, 246 arrests
Debbi Baker (San Diego Union-Tribune) | March 28, 2011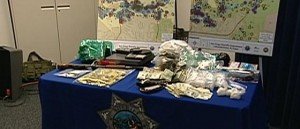 SAN DIEGO — A massive multi-agency weekend sweep targeting criminals involved with drugs, gangs and cross-border crimes resulted in 246 arrests and the seizure of about $200,000 in cash and contraband, sheriff's officials announced Monday.
Operation Allied Shield III, which started Friday about 5 p.m. and ended 2 a.m. Sunday, involved 680 law enforcement officers from several local, state and federal agencies who fanned out in a show of force across central, south and east San Diego County.
"We go into the neighborhoods where the gangs think they own the turf and we're making it clear to them these neighborhoods belong to the community," Sheriff Bill Gore said at a news conference Monday.
Sheriff's Capt. Dave Myers said there were no violent gang-related crimes reported while the operation was taking place.
"That's because we are targeting the right places and the right people," Myers said.
Forty-six drug seizures worth an estimated street value of $70,000 were made, including cocaine, heroin, crystal methamphetamine, ecstasy, pharmaceuticals and about 17 pounds of marijuana, Gore said.
Five weapons, including a sawed-off shotgun, were also seized, along with ammunition, $46,000 in cash, a motorcycle worth an estimated $25,000, vehicles and assorted drug paraphernalia, said sheriff's Lt. Margaret Sanfilippo, who heads up the department's Border Crime Suppression Team, which spearheaded the operation.
Eighty documented gang members and 25 gang associates were identified, and 67 of them were arrested. Gore said some of those taken into custody were in the country illegally.
Read more at: http://www.signonsandiego.com/news/2011/mar/28/weekend-law-enforcement-sweep-nets-drugs-246-arres/