Salvadoran leader: I wasn't involved in gang truce
MARCOS ALEMAN (Associated Press) | March 28, 2012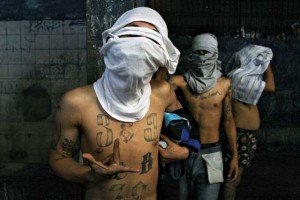 SAN SALVADOR, El Salvador—The president of El Salvador denied Wednesday that his government had rewarded his country's two largest street gangs for striking a truce credited with a dramatic drop in the staggering national homicide rate.
President Mauricio Funes said his administration had not negotiated with the gangsters. He did say, however, that the government responded to news of the truce by transferring 30 gang leaders to lower-security jails so they could order their underlings to stop attacking each other.
Critics have accused the government of negotiating the truce with the street gangs known as Maras and moving them out of maximum-security prisons days later to reward their cooperation.
The Maras have their roots in Southern California, where young men seeking refuge from Central America's civil wars formed violent gangs on the streets of Los Angeles and its suburbs in the 1980s. Gang members later deported from the U.S. re-established their violent organizations in their native countries of El Salvador, Guatemala and Honduras.
A recent U.N. report said El Salvador and neighboring Honduras have the highest homicide rates in the world, with 66 and 82.1 homicides per 100,000 inhabitants, respectively, in 2010. Together with Guatemala, which has a homicide rate of 41 per 100,000, Central America has been struggling to find solutions to the violence.
The Salvadoran government and the gang leaders have both denied negotiating with each other. But Funes' confirmation Tuesday that the gangsters were transferred on March 8 and 9 as a direct result of the truce was the strongest link the government has acknowledged between the cease-fire and the transfers.
In the weeks since Salvadoran media first reported the truce, those involved have been revealing an ever-sharper portrait of official involvement in a remarkable deal drawing together prominent citizens and gangsters blamed for a terrifying reign of shootings and extortion.
Leaders of the Mara Salvatrucha and Mara 18 gangs have told reporters that negotiations mediated by the head chaplain of the Salvadoran army and police led to the deal halting the battles over territory.
Read more at: http://www.dailynews.com/ci_20275257/salvadoran-leader-i-wasnt-involved-gang-truce
Photo credit: Izismile