Fresno Police Steps Up Efforts to Arrest Bulldog Gang Members
By Norma Yuriar
March 29, 2010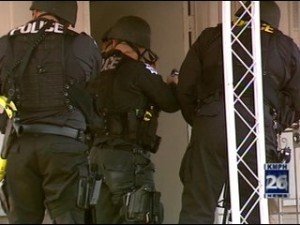 Fresno, Calif. (KMPH News) — A string of gang shootings over the weekend are prompting concern about a rise in violence in the city of Fresno. Investigators call it a feud between two separate groups within the Bulldog criminal street Gang.
26–year old Celis Gonzalez and 26–year old Richard Solomonian were gunned down Saturday. Investigators have made no arrests. But, they believe their murders are linked to Fresno's notorious gang.
The two were visiting friends at an apartment complex near Ashlan and Fruit when they were shot to death.
Investigators suspect the possible gang members who pulled the trigger are also responsible for two other drive–by shootings in southeast Fresno.
In response Dyer is adding more officers to fight gang violence.
"It finally took for that to happen for them to actually have some police over here," neighbor Brandi Murphy said. "For us to be two miles away from a police station, you wouldn't think it would be like that."
Brandi Murphy grew up in a violent west Fresno neighborhood. She moved to a nicer area because she thought it would be a safe place to raise her one year old daughter, Samyra.
"You think you are getting away from it but the north side is getting just as bad as the west side," Murphy said.
She lives on the border of northwest and central Fresno — across the street from The Parks apartment complex where Gonzalez and Solomonian were murdered.
"The individuals forced their way into an upstairs apartment and killed two people," Fresno Police Chief Jerry Dyer said.
Solomonian had ties to the Bulldog gang, Dyer said, Gonzalez did not.
"She was at the wrong place at the wrong time."
Investigators are following up on leads, but no one is in custody.
"They had the police motorcycles – but, since Saturday I have not seen anyone else," Murphy said.
That's about to change, Dyer said. He's adding more officers to break up the possible shooting war between the two groups of the Bulldog gang.
"It's going to be much more than police presence, we are going to be focused on saturating those neighborhoods where we believe there is a likelihood of retaliation," Dyer said. We are also targeting those individuals from the Bulldog gang that we need to apply extra pressure on. We are going to be conducting a number of probation, parole searches and taking as many of those individuals off the street as possible."
Murphy says she's also taking action and keeping more vigilant.
"The police, they can only do so much, it's going to take us, who live around here to try and make things happen – try to make a difference in order to make things happen," she said.
According to Chief Dyer — this year there are already four more gang related shootings in the city of Fresno compared to this time last year.