Churches Working to Curb Gang Violence
Kimberly McDougall (Fox40) | March 29, 2014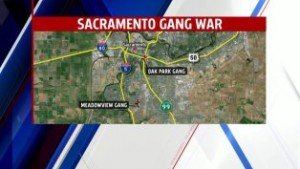 SACRAMENTO – "It's a hard stance to take when pastors and congregations are handing out wanted flyers, but I think it's much harder to bury a young person," said Lt. Roman Murrieta of the Sacramento Police Department.
It's a bold move. Ten churches have signed up. They want to stop the spike in violence between a gang in Oak Park, and a rival gang in Meadowview.
"What we are trying to do is sound the alarm. 17 shootings and four deaths in one weekend in the town, the city the size of Sacramento is alarming," said Pastor Anthony Sadler of Shiloh Baptist Church.
Pastors say violence in these communities is common. But this recent rash of shootings started back on March 15 with a scuffle at Arden Fair Mall.
But then it spilled out onto the internet.
"One of the people that is an instigator and a cause of some of the problems videotaped it on his cell phone. He put it on YouTube and it went viral," said Steve Reed.
That night: retaliation. Three people were shot at an apartment complex on Mack Road.
The next day: another shooting, three more people injured on 34th and 35th streets.
"We want a community to stand up and say we are not going to allow this generation to annihilate themselves due to the bad choices of a few," Sadler said.
Police say they have flooded the streets with officers trying to calm things down. But having the pastors get involved is divine intervention that could go a lot further in getting a cease fire.
"When a pastor acknowledges and in a sense cosigns on something that we do it goes a lot further than we could ever do it," Marietta said.
Source article: http://fox40.com/2014/03/28/churches-working-to-curb-gang-violence